(From left) Harn Len Corp Bhd chief operating officer Kelvin Low Yew Yern and managing director Low Quek Kiong, with Jakel group COO Datuk Mohamed Nizam Mohamed Jakel and group MD Datuk Seri Mohamed Faroz Mohamed Jakel
KUALA LUMPUR (Jan 12): Johor-based oil palm planter and property developer Harn Len Corp Bhd is acquiring a plantation outfit that owns 4,052.6 acres of plantation land in Rompin, Pahang, from textile giant Jakel group for RM54.7 million in a cash-plus-shares deal.
The announcement confirmed a report by theedgemarkets.com, citing sources, that Jakel group is injecting an asset with 4,000-acre agriculture land into Harn Len and will emerge as one of the group's substantial shareholders.
Under the deal, Harn Len will acquire 100% stake in Almal Resources Sdn Bhd by issuing 31.27 million new shares at 70 sen apiece to fund 40% of the acquisition price, equivalent to RM21.9 million, while the remaining RM32.8 million will be funded by cash.
As at end-September 2022, Harn Len's cash and bank balances stood at RM18.68 million, down from RM25.05 million as at end-2021.
Harn Len chief operating officer Kelvin Low Yew Yern said the acquisition will be funded by a combination of internally generated funds and bank borrowings.
"Datuk Nizam has been very kind, being a shareholder of the company, he is deferring about RM20 million to a later date, that would help to ease the cash flow requirement for this acquisition.
"It is challenging in palm oil, so we are looking into other crops and business ventures into food security, and Datuk Nizam also has other ventures in food security that he has been operating, like aquaculture, so there will be other collaboration and exploration with him," he told reporters after the agreement signing ceremony for the acquisition.
Upon completion of the acquisition, Jakel Holdings Sdn Bhd's chief operating officer Datuk Mohamed Nizam Mohamed will emerge as a substantial shareholder in Harn Len with a 5.5% stake.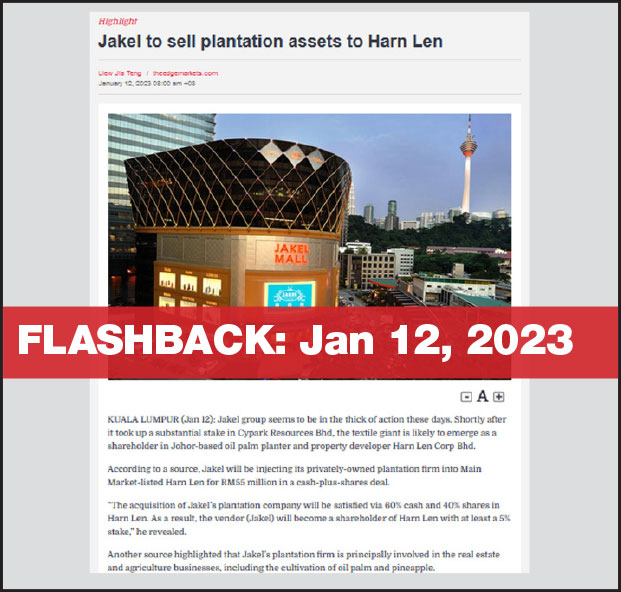 This came less than two weeks after Jakel injected RM67.1 million via private placement into another public listed firm, Cypark Resources Bhd, to become the latter's single largest shareholder with a 27.33% stake.
The acquisition provides Harn Len an opportunity to diversify its plantation business away from oil palm into other crops, the group said in a statement on Thursday.
Low said the land is currently planted with 530 acres of pineapple crops and 300 acres of oil palm plantation.
"We aim to have 3,000 acres of palm oil on this land, because we got development approval from the state government, and 1,000 acres of pineapple. The pineapple crops are already planted and matured, so it is already ready for harvesting, it will immediately contribute to the bottom line.
"Pineapple crops have a shorter life cycle, and it is already planted, so it will contribute on top of Harn Len's current profitability, it will definitely be positive [for the group]," he said.
According to the Companies Commission Malaysia (SSM), Almal Resources owns a 100% stake in Pahang Coconut Valley Corp Sdn Bhd. The latter owns the rights to a 60-year lease of plantation land in Rompin.
The acquisition will bring Harn Len's land bank to 46,777.1 acres from 42.724.5 acres.
The Rompin land is currently planted with pineapple and oil palm.
"Pineapple plantations typically have a shorter crop life cycle compared to oil palm plantations, hence, Harn Len believes that the pineapple plantations may be able to generate accelerated revenue for the group and reduce its reliance on oil palm plantations," Harn Len said.
"In addition, as pineapple is considered a food security crop, it will allow the group to play its part in contributing towards Malaysia's National Agrofood Policy 2.0 for food stability.
"This is in line with the growth of Harn Len's business, as the group is mainly engaged in palm oil plantation, palm oil mill operation and property investment. The planting segment continues to be the main business of the group, contributing nearly 99% of the group's revenue," it added.
Although Pahang Coconut Valley Corp's financial statement for the financial year ended Dec 31, 2022 (FY22) and FY21 are not available yet, data from SSM show that the company had zero revenue back in FY20, incurring a net loss of RM10.14 million.
The company's total assets stood at RM632,629 as at FY20, while total liabilities stood at RM20.77 million.
Almal Resources, meanwhile, reported a net loss of RM4,957 for FY21, on the back of zero revenue. The company's total assets stood at RM2,708 as at FY21, while total liabilities amounted to RM503,663.
Low expects Almal Resources to turn profitable this year, as there are ready crops for harvesting.
It is worth noting that Harn Len had in August 2020 disposed of seven parcels of oil palm plantation lands measuring 2,124 ha, together with a palm oil mill in Rompin to Main Market-listed Far East Holdings Bhd for RM182.99 million in cash.
Low explained that the decision for the divestment back then was due to its weak financial position, which has since improved and allowed management to make this latest acquisition.
"Three to four years ago, our financial positions were not that good, because we got a large liability, due to overdevelopment at Sarawak, so we sold the land at that time to raise about RM180 million to lower our gearing.
"After these few years, our financial footing has improved, we think it is time to expand and we believe Datuk Nizam coming in as a shareholder, will open up more opportunities for collaboration. We will continue to expand our palm oil business, but we will also look into other crops with shorter cycles to complement," he said.
Shares of Harn Len were trading unchanged at 87.5 sen as at noon market break, giving it a market capitalisation of RM483.74 million.